You are using Internet Explorer. If you change to a newer and more standard complient browser, Shareholder Maps will look better and be more stable.


Due to the size of the ownership structure, the map has been simplified and only includes the most relevant nodes.


Default settings when entering the T-Rank module
Threshold (Total ownership threshold):
Max # (Maximum number of nodes to display) - 0 (recommended) means system default:
Type (Type of map):
T-Rank Power Index Beta
Control threshold
Entities with a voting power of at least the threshold below, will be marked with a red border.
Mark owners / owned above threshold
Owners/owned companies with an integrated ownership above this threshold will be marked with a black border.
Significant Owners definition
The Significant Owners definition is used in maps of type Significant Owners only. By Significant Owners we mean natural persons which to a certain extent owns or controls a company. Here, you may adjust the Significant Owners definition to suit your needs.
Voting power

All natural persons having a Voting Power of at least 50% is considered RRH. This method, combined with Integrated ownership is probably the best approach for identifying beneficial owners (based on ownership) if one look to the intention behind beneficial ownership regulations.

Integrated ownership

Integrated ownership is the sum of direct and indirect ownership. A person with an integrated ownership above threshold% will become Significant Owner.

Control of voting rights

Significant Owners are defined by a voting rights threshold: If a natural person controls companies which, together with the person himself, owns more than threshold% of the shares in a the subject company, he will be a Significant Owner. This approach is identical to the approach used to identify beneficial owners based on ownership in EU's 4th AML directive.

The Control threshold is used to identify when a person controls a company (de facto control) and is usually set somewhere between 99 and 100.

The ownership threshold is used to determine the minimum share of voting rights a natural person must control in order to be a Significant Owner. Common values are 25 or 10.

Ownership on each level (recursive approach)

This approach is used in norwegian and swedish AML legislation. A natural person is a Significant Owner when the ownership on each level in the ownership path is above a threshold. When investigating if a person is Significant Owner for more companies, the direct ownership of the person, together with all companies he has allready been found to be a Significant Owner for, is summed up.
Crime&tech Country Risk Indicators
If you choose to include the country risk indicators provided by Crime&tech, they will be displayed as a coloured square in front of the BvD ID's. The scores go from 1 (green, very low risk) to 5 (dark red, very high risk).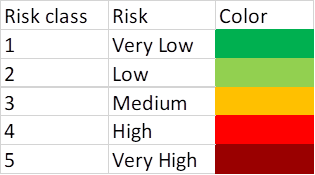 Country markers
In order to quickly spot entities located in certain countries, you may add colour markers to the countries of interest. A circle with the selected colour will be placed in front of the BvD ID.
Quick Links
Mark countries on the "EU list of non-cooperative tax jurisdictions" (Jun. 21st 2019) as red or yellow
Mark countries on the so called EU grey list (Jun. 21st 2019) as red or yellow
Mark high risk countries according to Norwegian legislation as red or yellow
By country
Country
Colour
None
Red
Yellow
Green
Please find the node you want to link to, click on it and select "Create link to"